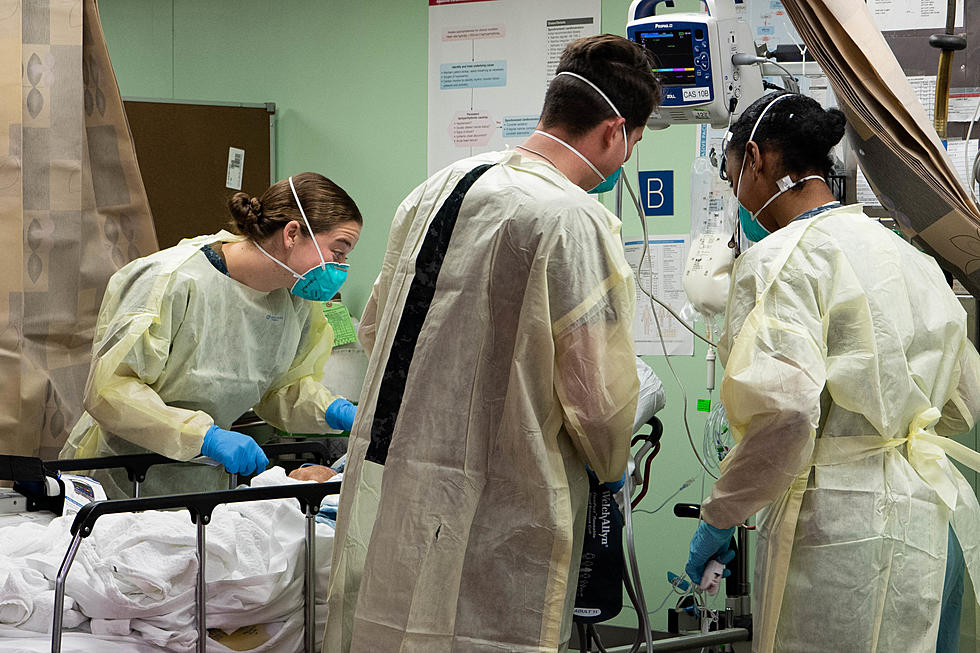 COVID Hospitalizations Soar in New York as New Restrictions Loom
Getty Images
COVID hospitalizations in New York just reached a number not reported since May 2020.
On Tuesday, Gov. Hochul announced 22.49 percent of COVID tests came back positive in the past 24 hours. The 7-day average increased to 21.81 percent, the highest since late April 2020.
"The best way to protect ourselves and our children from getting hospitalized with COVID is with the vaccine and booster," Hochul said. "As we continue to fight the winter surge, let's continue to use these tools: Get your second dose and booster when eligible, get your children vaccinated, remember to wear a mask and stay home if you're not feeling well. If we don't, many more New Yorkers will continue to get sick."
Hochul announced 99 more COVID deaths, bringing the total deaths reported to and compiled by the CDC to 61,607.
The number of people hospitalized statewide due to COVID has topped 10,000. 1,758 people were hospitalized in the past 24 hours in the Empire State with COVID, bringing the total number of people hospitalized with the virus to 10,411.
It's the first time in 20-months the number has been this high. May 1, 2020, was the last time New York reported over 10,000 COVID hospitalizations.
Last week, Hochul extended COVID mask rules. The indoor mask mandate was set to expire on Jan. 15 but Hochul has extended it to at least Feb. 1.
Hochul has hinted more COVID restrictions could be announced very soon.
"We could see a drop soon in our hospital capacity. And at that point, we'll be deciding whether we need to take wider steps and we're ready to do it. We have the plans in place, we're just watching this for a couple more days to see what those steps might," Hochul said.
New York officials say the Omicron variant now makes up almost 99 percent of all COVID cases statewide. Breakthrough COVID cases have increased by more than 5 times in the past month.
Health officials also say unvaccinated New Yorkers are getting infected at more than six times the rate when compared to vaccinated New Yorkers.
In the Hudson Valley, Orange County reported over 1,000 new COVID cases on Tuesday while Dutchess had over 700 new cases and 3 deaths. Down in the Lower Hudson Valley, Westchester and Rockland counties combined for just under 4 thousand new cases and 6 more COVID deaths.
New York ER Doctor Shares Shocking COVID Observations
A New York doctor breaks down how COVID affects the vaccinated, unvaccinated and boosted Empire State residents.
New York Unveils New COVID Plan To Save Lives, Prevent Illness
New York State issued a number of new ideas in hopes of slowing the spread of COVID during the "Winter Surge."
17 New Laws in New York You Should Know
The New Year brings with it a host of new laws for Empire State residents. Here are nearly 20 that may impact you in 2022.