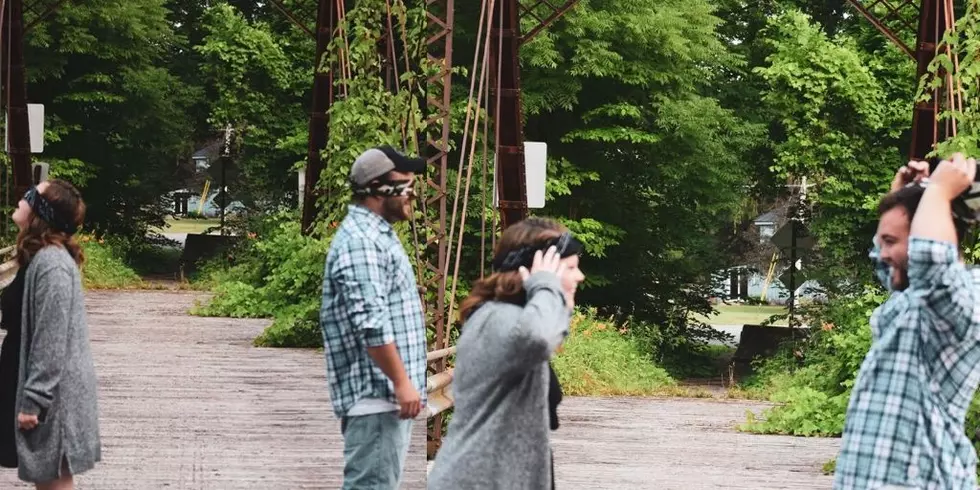 Couple Goes on a Blind Date Photo Shoot in Upstate New York
Photo Credit - Rubber Boots Photogrpahy
Who needs Tinder when you can go on a blind date photo shoot.
Jessie Perry of Rubber Boots Photography went looking for two people wanting to go on a blind date. After going through all the entries she matched up Matt Ritz from Watertown and Taylor Fairbranks of Chittenango. "Matt messaged me first and he drove me and my husband on our first date so I know him pretty well."
Perry made an application knowing Matt's likes. She says she has 50 women apply but Taylor was a perfect match. "I liked her from the start. She said she was very outgoing and she liked to do the same things as Matt."
Matt and Taylor met Perry near a swimming hole in the Tug Hill region and went down to a bridge with blindfolds on for their date. "They followed me to a dead end road with a bridge and rocks and water underneath in Rodman. Both tested negative for COVID-19 before meeting up."
The date went well with Matt & Taylor hitting it off. "They were talking and laughing the entire time," said Perry. "He did get her phone number at the end of the photo shoot though."
Will the two see each other again? "I'm sure we will," said Taylor. "We still talk and we both had a lot of fun."
Perry is already working on another blind date photo shoot. This time she's looking for a male who is between the ages of 22-25 and wants to meet a sweet little lady. Message Perry if you're interested in the free blind date photo shoot.
Photo Shoot Blind Date
---
---
LOOK: See Photos of the Year From the International Photography Awards