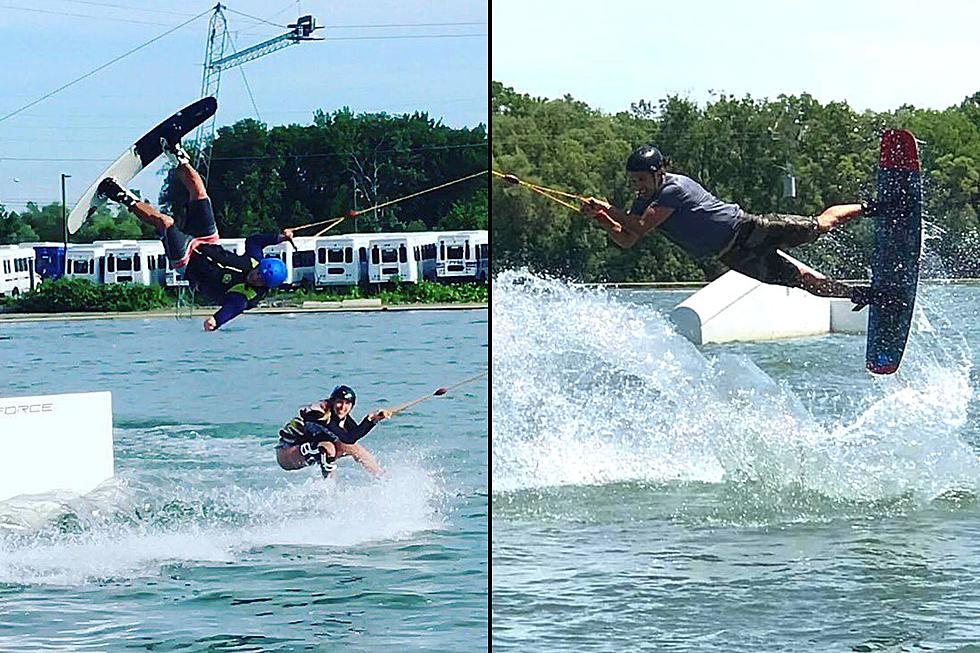 Have You Seen This Exclusive Cable Wake Park in New York State?
Credit - Roseland Wake Park
If you're looking to shred through the water like a pro, you need to visit this Upstate New York wake park.
Make a trip to beautiful Muar Lake in Canandaigua to spend a day at the Roseland Wake Park, home to the first and only Cable Wake Park in the northeast. As you could guess, they specialize in wakeboarding and provide an incredibly unique way to do it.
The Cable Wake Park is a 5-tower, full-sized cable system that pulls wakeboarders across the water through a series of obstacles. You don't have to be an expert to try it either. The additional 2-tower system can be used by both beginners and advanced wakeboarders.
The best way to imagine the course is that it's like a terrain park on water. The full-sized cable system, of which can pull up to 9 riders, leads riders through a variety of ramps and rails through the park.
There are several different Park Pass options available. They include 2-hour, 4-hour, all day and all season passes. Similar to a ski lodge, they have a Pro Shop that has all the equipment available for you to either buy or rent.
So Much to Enjoy
If you're interested in other watersports, like water skiing, wake skating, knee boarding, and standup paddle boarding, you can do all of that at Roseland Wake Park too! Their goal is to be the watersports hub of the Finger Lakes.
There is so much to love that you can't help but check it out for yourself!
Did You Know? The Largest Craft Market in New York Is In the Finger Lakes?
The village of Penn Yan, NY (population of about 5,000) is the home of The WIndmill Farm and Craft Market. With over 175 vendors spread out over 40+ acres, this is the largest permanent craft market in the state. Tens of thousands visit each year. It is an amazing place. Here are some things to know before your visit this Finger Lakes-region treasure.
Scuba Divers Amazing Finds Under the Sea in Lake George
You won't believe what a pair of scuba divers found at the bottom of Lake George.
10 of the Best River and Lake Cruises in Upstate New York
With thousands of miles of water frontage in Upstate New York, it is no wonder that there are so many excellent opportunities to cruise them in style. Here are ten top cruises to consider for your summer vacation bucket list. They included cruises on lakes, the St. Lawrence River, the Hudson, and the Erie Canal. Book early!
12 Diners and Cafes Well Worth the Drive to the Finger Lakes For
The Finger Lakes region of Upstate New York is known for its many fine restaurants and famous wineries. But, there are also a wonderful collection of smaller cafes and diners throughout the region.
This is a list of 12 of those iconic eateries which dot the roadsides of Upstate. Many are very small, Mom-and-Pop operations. Others are elegant cafes at which you could very well spend an hour or two having a cup of coffee or a fresh baked good. But, they all have one thing in common. They are all small!
We hope you enjoy this list of great little diners and cafes to stop at and enjoy the next time you are in the Finger Lakes area.
10 Best Lakes in New York To Reel in the Big One