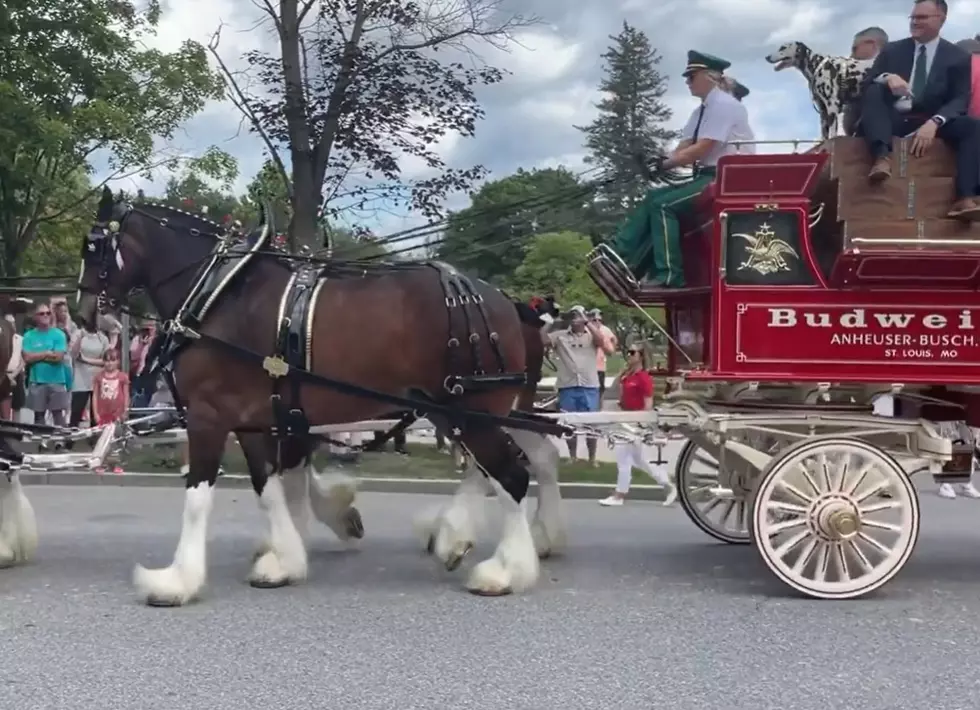 Famous Budweiser Clydesdale Trotting into Central New York Labor Day Weekend
Carrie Somma-Downs/Facebook Page
The famous Budweiser Clydesdales are coming back to Central New York for the Labor Day weekend.
The Clydesdales are returning to Baldwinsville after trotting into town this past June for the Anheuser Busch Brewery's 40th anniversary. This time it's for the Folds of Honor.
From the Prohibition era to Super Bowl commercials, there is perhaps nothing more iconic in Budweiser's storied history than its team of Clydesdale horses.
Beginning of Budweiser Clydesdales
It all began in April 1933 when August A. Busch, Jr. and Adolphus Busch III surprised their father, August A. Busch, Sr., with a six-horse Clydesdale hitch to commemorate the repeal of Prohibition. A second six-horse Clydesdale hitch was also sent to New York to mark the event.
The six-horse Clydesdale team grew to eight and a Dalmatian was introduced on March 30, 1950, to commemorate the opening of the Anheuser-Busch Newark Brewery. One travels with each of the Clydesdale hitches.
Budweiser Clydesdale in Baldwinsville
One of the Clydesdales will be coming to Baldwinsville for the Folds of Honor scholarship program, something Anheuser Busch has supported for the last 13 years. The program provides educational opportunities to families of fallen or disabled U.S. service members and first responders.
You can help too on Saturday, September 2. The Clydesdale will be at Tops Friendly Market on Downer Street from 2 to 4 PM for pictures. Donations to the Folds of Honor program will also be accepted.
Buffalo Bills Themed Beers For Your Tailgate
These are brews you will want for your next Bills tailgate.
LOOK: Best Beers From Every State
To find the best beer in each state and Washington D.C., Stacker
analyzed January 2020 data from BeerAdvocate
, a website that gathers user scores for beer in real-time. BeerAdvocate makes its determinations by compiling consumer ratings for all 50 states and Washington D.C. and applying a weighted rank to each. The weighted rank pulls the beer toward the list's average based on the number of ratings it has and aims to allow lesser-known beers to increase in rank. Only beers with at least 10 rankings to be considered; we took it a step further to only include beers with at least 100 user rankings in our gallery. Keep reading to find out what the best beer is in each of the 50 states and Washington D.C.