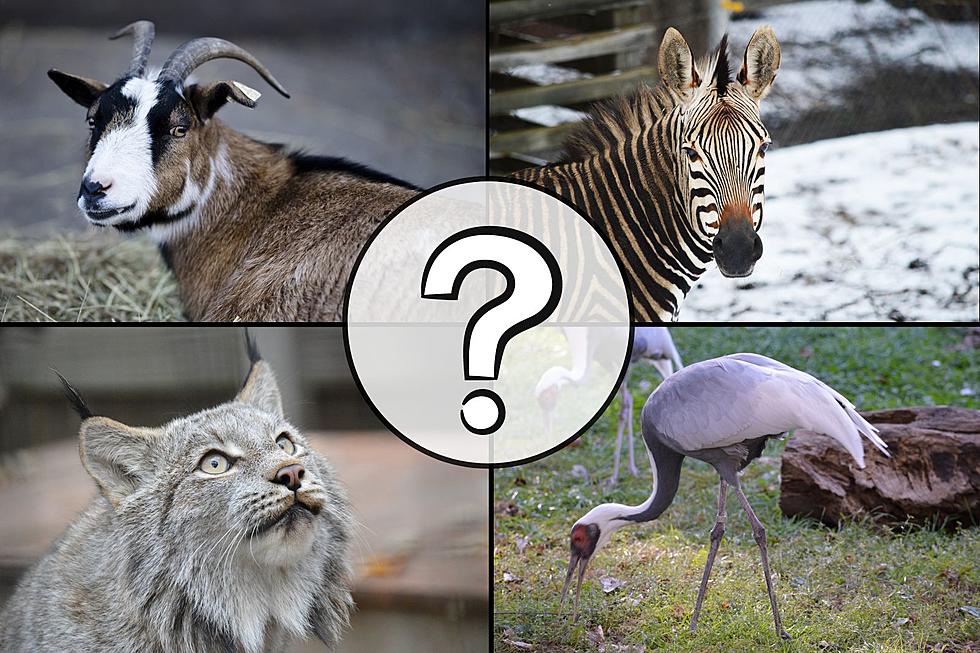 Utica Zoo Reveals Their First Ever Pre-ZOO-dent; See Who Won!
Credit - The Utica Zoo
The votes are in and you're not going to believe who came out on top.
The Utica Zoo has been hot during the month of February. It's election season and the animals were going wild trying to decide their very first Pre-ZOO-Dent. Thanks to you, they finally got their answer.
The election was to decide the Utica Zoo's first animal-leader, who will serve as an animal ambassador and face of the zoo. It's an important position all of the animals are taking VERY seriously.
Voting was open to the general public on February 18th and 19th, so that they could use the following Monday (President's Day) to decide a winner.
The votes are in... here's your new leader.
Mei Lin - The Red Panda
It is with great pride the Utica Zoo announces their first ever PreZOOdent, Mei Lin. The Red Panda has been a long fan favorite of the zoo, always bringing a smile to visitors faces when they pass her exhibit.
Some would say the votes were close, but the ballots tell a totally different story. Not only did Mei Lin receive a total of 477 votes, but she received almost 300 more ballots in her favor than 2nd Place (Tasha the Nigerian Dwarf Goat, 184 votes).
Ahead of in-person voting, people were given the opportunity to make donations to their favorite candidate's campaign. Every $10 donated gave 5 extra votes to the animal, because you know... politics.
Mei Lin's fan base was so strong, she received a $500 donation for her campaign. That put her ahead 250 votes, even before the voting officially began. In total, the PreZooDent campaign raised over $1,000 to help support the daily needs at the zoo.
Utica Zoo Marketing & Community Engagement Manager, Allie Snyder said it was a great way to engage new visitors at a time when attendance is usually lower...
It was a chance for our staff to share some of the animals' personalities and traits that visitors may not see normally.
Mei Lin actually just recently returned to the Utica Zoo. She was born here in 2019, but was sent to Chicago's Lincoln Park Zoo in 2021 when she was of breeding age. After a year, the Association of Zoos and Aquariums Species Survival Program recommended she be returned back to Utica.
Visit the new PreZOOdent for yourself! The Utica Zoo is open daily from 10am to 4:30pm. Learn more online or by following them on Facebook.
Here's 7 Animals You Didn't Know Were Endangered At The Utica Zoo
Who knew these vulnerable and endangered animals could be only found close to home at the Utica Zoo?
LOOK: Exotic Animals You Can Own In New York
Looking for an exotic pet to own legally in New York State? Here is a list of some animals that you can have aside from regular dogs, cats, and farm animals.
Five Exotic Pets That You Can Own in Upstate New York
If the thought of owning a dog or a cat or a parakeet sounds nice and all but you're looking for an animal that's a little more exotic, there are five super cute exotic animals that appear to be completely legal to own in Upstate New York, although you might want to check your local ordinance laws to be absolutely sure.
Iconic Brands We Just Can't Call By Their New Name
Even though they've officially changed their name, we just can't bring ourselves to call these legendary brands by their new name.
Live Like The Great Gatsby In This 12 Million Dollar New York Home
If you've ever dreamed of living the lifestyle of The Great Gatsby, or you win the Powerball here in Upstate New York, you may want to buy this 12 million dollar home on the market.