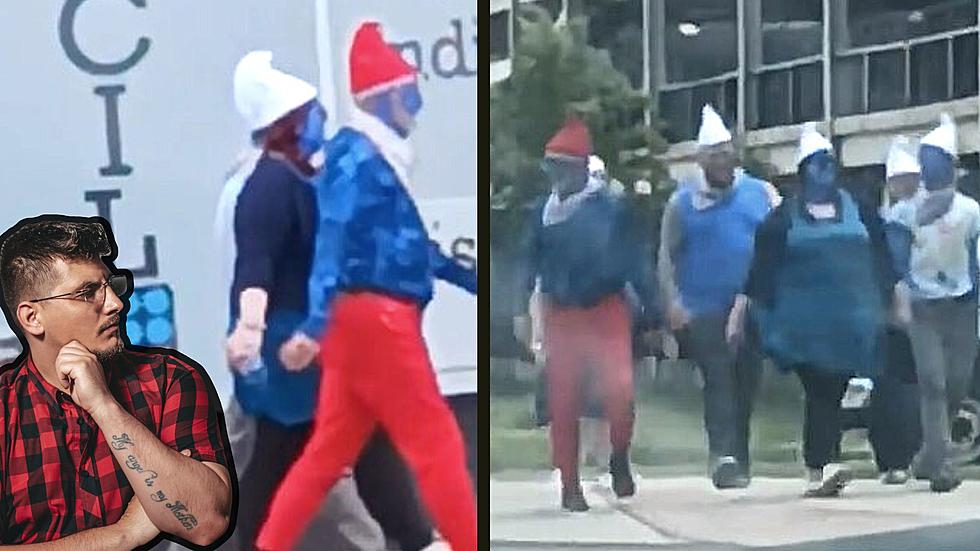 What in the Smurf? Blue Man Group Seen Walking Around Utica
Credit - James Smith via Facebook
What in the Smurf? Did you see the blue man (and women) group in Central New York?
A group of people wandering around downtown Utica looked to be dressed up as Smurfs. James Smith captured Papa Smurf, Smurfette, and all their Smurfy friends and posted a video on social media with the caption "Only in Utica."
App Guided Experience
But it wasn't only in Utica. The group was taking part in an app-guided themed experience from CluedUpp Games, called Smurfs Great Escape. The even was held in cities all over the country on Saturday, May 20, including Utica.
"They have them quite often. This is actually awesome," said Sara Lynn.
Renee Petrucciano has a family in the south who once did an Alice in Wonderland theme. "They all dressed up and walked around the town. If Utica does have something like this then that is amazing. I'm all about kids and families getting outside and being more active."
Beauty & The Beast
Be our guest and try the Beauty and the Beast experience when it hits the streets of Utica on Saturday, September 2. The outdoor adventure combines the challenge of an escape room with the excitement of an interactive scavenger hunt.
Hunt for clues, solve puzzles, and complete challenges as you and your team race against the clock to help Beauty reverse the curse.
The game usually takes anywhere from 2 to 3 hours and can begin anytime from 9 AM to 2 PM. So it's all on your schedule.
Your team of 2 to 6 adults (kids can play too for free), and will visit more than 20 locations throughout the city, competing for prizes.
Learn more and sign up at CluedUpp.com.
Top 7 Most Redneck Towns In Central New York
Some people may see the term "redneck" as a derogatory term. In these towns... it's a sense of pride.
18 Kid Friendly Day Trips to Fight Boredom This Summer in Central & Upstate New York
Now that school is out for the year it won't be long before the kids are bored. Here are 18 kid-friendly day trips to keep them entertained this summer.