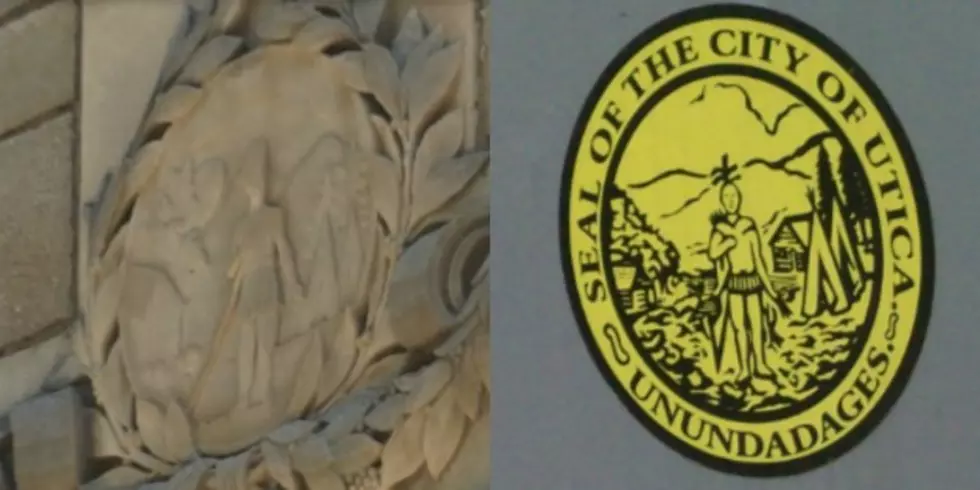 Utica's Hidden City Seal ~ Haunts And Legends Of New York Extra
Phil Nye/Eric Meier - TSM
Utica's City Seal tells a story of the city's history from Native American days to the coming of the first pioneers. The Haunts and Legends crew recently found the seal hidden in Bagg's Square.

Lite 98.7's Eric Meier has teamed up with Folklorist P.W. Creighton to explore the haunts and legends of New York. Through their travels into the dark and often overlooked spaces they will bring these historic sites back to life and make some unexpected discoveries along the way.
The building at Bagg Commemorative Park, the small greenspace tucked between the Children's Museum and Genesee Street bridge, marks the land that once was the Baggs Hotel. Today there is a small building erected by the Proctor Family, who owned the Baggs Hotel. The building, we discovered in an earlier episode of the series, contains a hidden vault. The exterior of the building, we discovered, carried a secret as well. The seal of the city is carved into the stone over the main entrance.
Watch the Complete Haunts and Legends Season 1 via this Youtube Playlist
Watch the complete first season of the Haunts and Legends of New York including our explorations of the Lost Village of Delta near Rome, Utica's Secret Underground Waterways and the Monumental History of the Oriskany Battlefield Memorial.