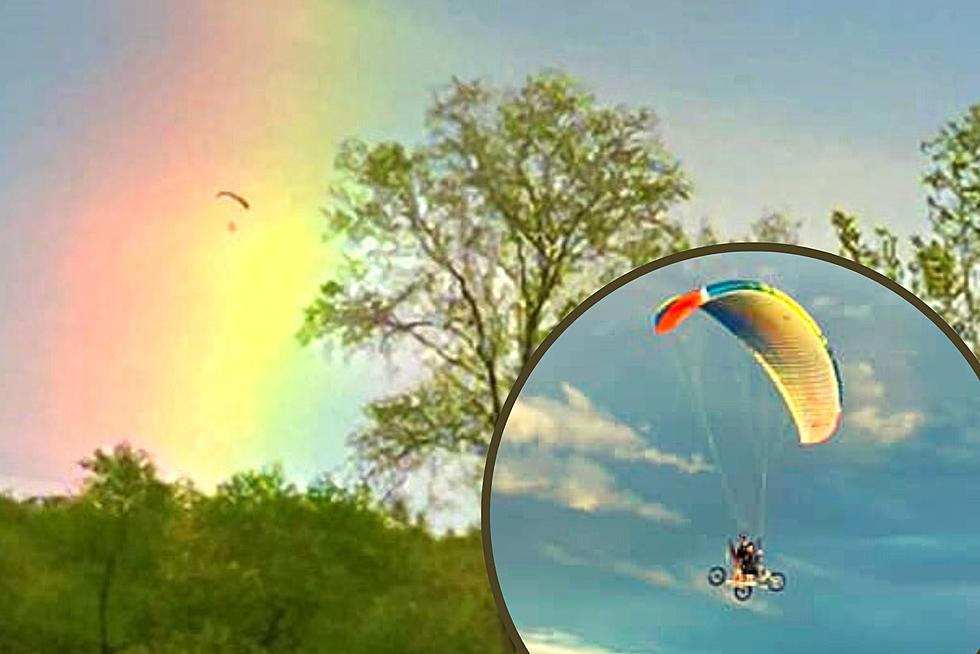 Somewhere Over the Rainbow a Parachuting Bicycle Flies in CNY
Credit - Paige Van Valkenburgh/Derek Keven via Facebook
Somewhere over the rainbow, a parachuting bicycle flies. And the moment was captured in an epic photo in Central New York.
Paige Van Valkenburgh pulled over to the side of the road to show her sons Mother Nature's beauty. She took a picture of the rainbow just above the Pop Warner field in Holland Patent. In a stroke of luck and great timing, Paige caught a moment straight out of the movies.
Finding Flying Bicyclist
In hopes of finding the flying bicyclist, Paige turned to social media.
If anyone knows the person who was on the flying bicycle, please let them know I got a photo of them in front of the rainbow and also that they are my hero.
Flyers Found
The search didn't last long. Turns out there were two paragliding bicyclists, not just one. "That's my brother and I," Derek Kevin wrote on the Facebook page, sharing his own picture of their view from the sky.
One in a Million Shot
Drake's brother Jared Schultz always wondered if anyone would see them flying through the air and post a picture to Facebook. Not only did it happen, but it was also a once-in-a-million shot.
Why Then Oh Why Can't I
I don't know about you, but after seeing these beautiful pictures, now I want to fly through the air on a bicycle with a parachute.
If parachuting bicyclists fly over the rainbow, why then oh why can't I?
Fisherman Gets Up Close Look at Majestic Moose in the Adirondacks
Photographer Captures Stunning Northern Lights Show in Adirondacks
Shane Muckey captured stunning pictures of the Northern Lights in the Adirondacks.
Stunning Photos Capture Toy Thief Coyote Playing Just Like a Dog
Stunning Photos Capture Toy Thief Coyote Playing Just Like a Dog