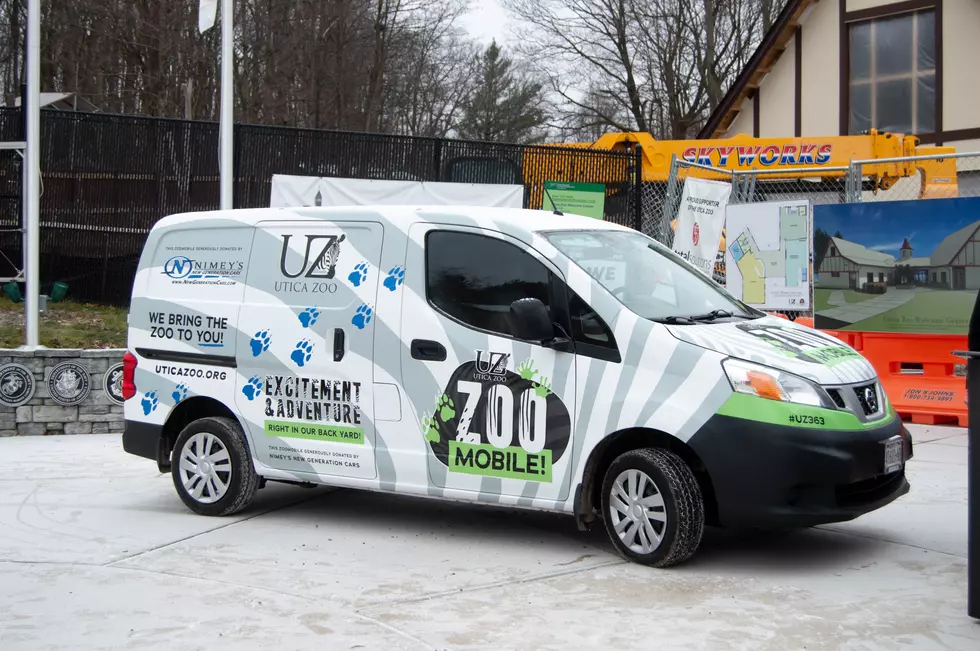 Look at the Utica Zoo's New ZooMobile, All Thanks to Nimey's Donation
Credit - The Utica Zoo
The Utica Zoo just got a huge donation in the form of four-wheels for their four-legged friends.
No better way to drive into the new year than with a new ride. The Utica Zoo is proud to unveil their newly wrapped ZooMobile van, thanks to Nimey's New Generation Cars.
Nimey's originally donated the 2015 Nissan Transport back on December 16th. Their donation included wrapping it as well, which was handled by McGrogan Design and Valley Signs.
The Utica ZooMobile
The primary focus of the ZooMobile is to bring the interactive zoo experience everyone loves, right to their doorstep. Many schools, clubs and programs aren't able to bring their kids to the zoo, whether it be because of a financial or logistical hurdle.
The ZooMobile brushes those problems away and brings the zoo right to you.
Through the ZooMobile, they offer interactive programs for students, where an educator will bring a variety of animals to your location. They also offer an on-the-go Zoo Adventures Program for preschools, which includes both a storybook reading and a three-animal presentation.
Utica Zoo Executive Director, Andria Heath is excited for what the ZooMobile can do for them.
The vision for this new collaboration, brought to us by Nimey's New Generation leadership, will transform the Utica Zoo's capacity to bring the wonder of the ambassador animals to new audiences.
For more information on all things Utica Zoo, visit their website or follow them on Facebook.
Rosamond Gifford Zoo #EleTwins Light Up the New Year with Special Glow Rods
There's no way you're more excited for 2023 than these two baby elephants! Look at how much fun they are having with these two glow sticks.
Watch the Progress! Utica Zoo Building New Visitor Center
The Utica Zoo has been working hard to renovate the Visitor Center. Take a look at the monthly progress updates the zoo has been posting since June.
Here's 7 Animals You Didn't Know Were Endangered At The Utica Zoo
Who knew these vulnerable and endangered animals could be only found close to home at the Utica Zoo?
New York's Top Paying Jobs: Does Your NY Salary Meet the Average?
New York isn't exactly the most affordable place to live, but if you work in one of these professions you're probably not too worried about the rising cost of living.
Here's What New York State License Plates Looked Like Over The Last 100 Years