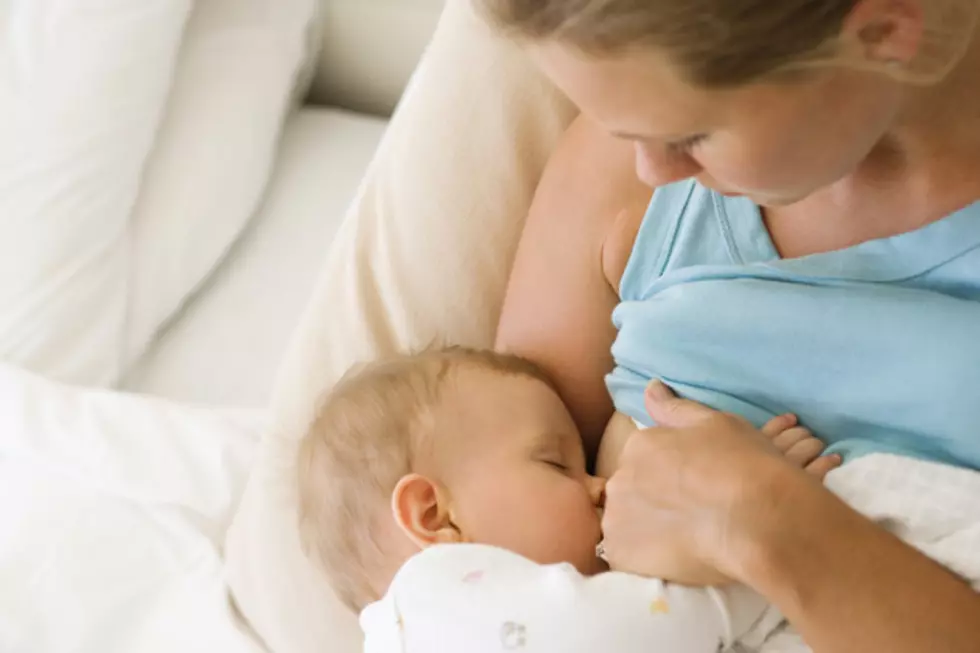 Mother Asked to Cover Up While Breastfeeding at Fly Creek Cider Mill Sparks Outrage
Polka Dot Images
Breastfeeding in public. It's a mothers right and one mother is standing up for that right. Marissa Olivera says while breastfeeding her son at Fly Creek Cider Mill, she was asked to "cover up because it upsets other customers."
To Whom It May Concern:

My family and I were visiting your establishment this past week, as we do quite often. While we were chatting with Nancy who we have come to know and like over the last few years, she peered into my baby carrier and saw that I was nursing my four month old son. She told me that I needed to cover up and that last time we were there, I had (apparently) angered other customers by doing the same thing. To clarify, I was being discreet. Had she not looked directly in my carrier she would likely not even know I was nursing. In my 3+ years as a nursing mother I have never once been "called out" on nourishing my child as if I were doing something wrong. I spoke with the manager on our way out of the store and while she was nice in explaining that yes, in fact there had been some sort of situation about it in the past and that's probably why Nancy had told me to cover myself---so as to not upset other customers, and that as a business it's hard to maintain that level of respecting other's wishes. Am I not a loyal customer? She assured me that that she too had breastfed her and children and 'understood where I was coming from.'

I will tell you where I am coming from. This situation has caused me a ridiculous amount of stress and sadness. The past few days I look at my son and think, "what did we do that was wrong?" And that's the thing. We did nothing wrong. Of course it would have been different had I fed him in the store with a bottle. A breast is a bottle is a source of nourishment for a child. There is little room for discomfort and shame to be placed on a woman who is simply meeting her child's need, especially in a "family-friendly" business.

There are many things that upset me about this situation (and that it's even a 'situation' at all) but the main thing as this is reinforcing the stigma of breastfeeding and is not helping to normalize the most natural process. To a new mother, this may humiliate and horrify her to the point it affects her decision to continue breastfeeding. I feel that is not society's decision to make for her.

As far as my family and I returning to your business, sadly we will not. We no longer feel accepted or welcome there.

With Respect,
Marissa Olivera
The letter Olivera received from the Fly Creek Cider Mill, signed by the co-owner, wasn't what she was expecting.
The letter has sparked outrage among mothers and customers who have voiced their displeasure on the Fly Creek Cider Mill Facebook page, many even posting pictures of mom's breastfeeding.
Barbie Mooney: "It's a shame that a mother can not openly feed her nursing child at your place of buiness. I will no longer take the 40 min drive and waste my time at a place that isn't really family friendly."
Sylvana Stelfox: "Shame on this company. Breastfeeding is legal and normal. To ask a woman to cover up because her breastfeeding, giving her infant the best possible nutrition she can provide, makes your staff uncomfortable is beyond rude, it is tasteless. What you should feel most ashamed about, however, is the poor excuse of a letter you sent this woman. She deserves a proper apology."
Cori Ann Mckerley: "A big SCREW YOU from Florida! Oh and a tip ....you might want to educate your staff and ur "co-owner" on what discrimination is, what a breastfeeding mothers rights are and how you violated her rights and you where completely unapologetic!"
Jackie Mae Ledger: "You're lucky us breastfeeding moms don't all show up to feed our babies at once! But we aren't willing to give you time of day or business. Shame on this company and its employees."
Nadine Milligan: "Commenting the whole way from BELFAST Northern Ireland! Bet you regret that letter now ... Yet to see a decent apology!"
Michelle N McKie: "I worked there while pregnant for my youngest son! Due to return after maternity leave, I asked where I would be able to pump during business hours. My office was open to the public and had a glass front. The first response was the public bathroom. The second response was "Well, we've decided not to invite you back". I was laid off."
We would like to assure our visitors that breastfeeding is and always has been welcome at our Cider Mill. Recently our staff asked a breastfeeding visitor to cover-up. This request should not have been made and is contrary to our operation and belief.

We extend a very heartfelt apology to Marissa Olivera and her family that the opinion of an individual was represented as the perspective of our Cider Mill and while we can't undo the past circumstances, we will make certain that going forward, mothers and families receive the hospitality that they've always enjoyed, just as I did while a nursing mother.
What do you think? Was Olivera mistreated?
---
MORE: Young Girl Writes Touching Note To Rome Police Officer