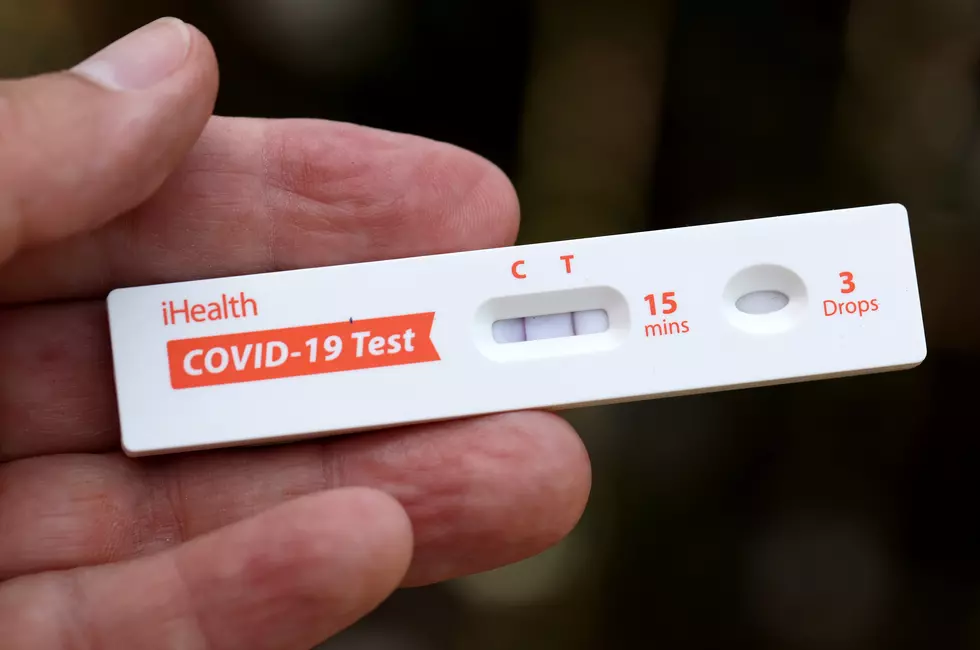 Watch Out: New York under Alert for Unusual New COVID-19 Strain
Getty Images
It's another COVID curveball. Officials are raising alarm after a new, highly mutated variant made its way to the United States last week.
Health officials are closely monitoring a newly mutated COVID-19 variant that has sprung up in Virginia and Michigan in the past few days. Prior to making its trip across the pond, variant BA.2.86, nicknamed Pirola, was first discovered in Denmark on July 24 before making its way into Israel.
The Pirola strain is part of the omicron family, but the reason why watchdogs are closely monitoring it is because it's so remarkably different than previous mutations.
Why New York is on high alert
Virologists say this new strain has significantly mutated from the original omicron variant that popped up in November 2021. In fact, it has more than 30 different mutations than other variants that are currently out in the wild.
That is why the World Health Organization declared Pirola a "variant under monitoring."
The main concern is that the variant popped up in several different countries in such a short period of time. To them, that signals this strain is highly transmissible and more cases are sure to come.
Additionally, this new strain has several mutations on the spike protein, which experts say could help this version evade immunity and make the virus even more infectious. In all, it's the strain that's the most genetically different than the original omicron.
The news piggybacks of the rising number of COVID-related hospitalizations nationwide. Hospitalizations nationwide rose by nearly 15% for the week ending August 5.
Still, while virologists are wary about this new strain, they aren't battening down the hatches. It's been noted that the rising number of new cases pales in comparison to the horrific surge recorded in the winter 2021-22.
That said, New York has yet to record its first case of this particular strain. Additionally, current wastewater testing has not yet detected it.
Current COVID rates in New York
In New York, state data has found COVID-related hospitalizations jumped by 64% since last month, with roughly 1,050 people seeking treatment as of last Friday. Confirmed cases have also increased by about 70 percent, with the most recent data pinpointing 6.3 new cases per 100,000 individuals.
However, with the increased availability of at-home testing, or people choosing to forgo testing, researchers say the data likely doesn't reflect the current number of active cases.
That is why wastewater testing has become such a valuable barometer in determining New York's rate of infection.
Health officials hail wastewater tracking as a solid early detection tool. It can help pinpoint how many people are shedding the virus by checking for traces of it in sewage from buildings and households.
Currently, most testing sites are showing moderate to high levels of COVID. Here in Central NY, high levels have been reported in Herkimer, Sherrill, Chittenango, the town of Cazenovia, Norwich, Oneonta, Cayuga Heights and Waterloo.
While there is a late-summer wave of COVID cases, the NYS Department of Health says they are monitoring the new strain, but are staying vigilant.
The big question is how and if this new variant affects people differently. At the moment, there's not enough data to suggest any abnormalities. At the moment, symptoms tend to be on par with what we have come to expect from the virus.
Those infected have complained of fatigue, congestion, headaches, sneezing, sore throat, coughing and a change to their sense of smell.
A new COVID booster shot is slated to roll out sometime in September, with officials determining which vaccine formulation will offer the best protection.
All-Time COVID Deaths Per County in New York
DON'T Do This After Getting a COVID-19 Booster Shot
I made the stupid decision of going against this helpful advice, and now I am paying the price. Learn how to care for yourself after a getting COVID-19 Booster.