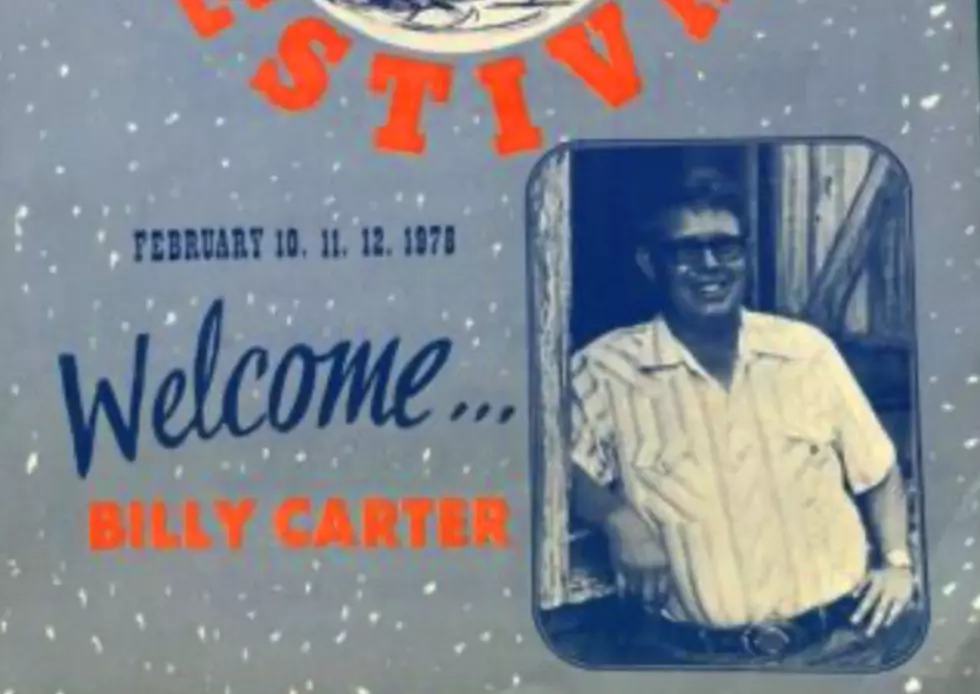 Was President Carter's Brother, Billy Carter, Arrested in Boonville, NY?
Program from the 1978 Boonville Snow Fest which hosted President Carter's brother, Billy Carter. Photo Bill Keeler / TSM
It happens every year when there's enough snow and cold to hold the legendary snowmobile races and winter fest in Boonville, NY. As a result, people begin to talk about that crazy weekend when Billy Carter, the then President's brother, stole the show some 45-years-ago.
And that's not all he stole, but we'll get to that.
We're talking about the Adirondack Cup Oval Snowmobile Racing and the Boonville Snow Fest II because it's going on this weekend in Boonville, and it looks like the weather will be cooperating. As expected, people are revisiting the race's history, which includes the unbelievable story of Billy Carter, his new beer, and the cold weather and antics of 1978.
Jimmy Carter had been in office for just over a year and much to his chagrin, his bad-boy brother was making news for getting into spats with people. getting drunk in public and creating international disturbances. Billy had cut a deal with Falls City Brewing Company in Louisville, Kentucky, to create a beer in his name called Billy Beer. The brewery reached out to the F.X. Matt Brewery in Utica for help because there was such a demand for the beer, and F.X. decided to assist his fellow brewer. So, the beer was being brewed and canned in Utica, and Billy was touring the country promoting it. He was making several appearances in Utica and had also been hired as a celebrity guest at the 1978 Boonville Winter Festival. What happened next is absolutely true, although variations of the story, or should I say variations of the stories, are slightly different depending on who you talk to.
Steve Pawlinga, a longtime Utica attorney, had just been sworn in as Mayor of the city. Unknowingly, the life-long Democrat was about to get thrust into a potential scandal involving the brother of a sitting President. Even though the event in question happened in Boonville, about 20 miles north of the city, those who remember the incident say Pawlinga felt like it was his duty to try to keep any possible bad headlines from reaching the national news, according to people who say they were there.
They say Billy Carter had a couple of altercations while he was here in February of '78. Joe "Load" Leonard, who's the MC for this weekend's Winter Fest, says the stories he was told include Carter being arrested for public intoxication and public indecency. "He got so drunk he could barely stand and at one point, he was urinating outside in the snow in front of everyone," said Leonard. "He was also at a promotion put on by the brewery (F.X. Matt) to promote Billy Beer at Spilka's Hotel in Utica and was so insulting they had to get him out of there."
Leonard said that after he was arrested in Boonville, it was Pawlinga's office that worked to get the charges dropped and free him from police custody.
Fred Matt, President of the F.X. Matt Brewing Company, was at college in February of 1978, but he said the stories had been passed down over the years, especially from his uncle Frank Owens, who was traveling with Carter while he was here.
"I do know it was true that he stole a police car," said Matt. "You know, Billy was quite a drinker. I'd say a functioning alcoholic would be how I'd describe him." Matt also said he vaguely remembers the "public indecency" part of the story that happened at the Winter Fest.
Matt said at the time, Billy Beer was a hot product. The demand was so great initially that when home from college, he even took part in deliveries to vendors where during a trip, they would drop off several hundred cases of the beer. Matt said because it was a novelty, people bought it once, but didn't keep buying it. "It was a one and done, you didn't buy it twice," he said. So, ultimately there was a lot left over, and at the time, the brewery allowed for unsold product to be returned, so what started off as profitable, quickly went to "either break-even, or we lost money."
Matt said that later on, Billy Carter and Billy Beer were considered a joke, and for that reason it was a sore subject for his dad, F.X. Matt.
"My father didn't like being associated with the fact that Billy Beer was kind of a blemish on our record," he said. "We didn't do anything novel after that one."
Matt said the most memorable story of Billy Carter in Utica was when he was done with his time here, he left a gift with a note for Frank Owens. "He left his cowboy boots with a note that said, _____ You Frank, signed Billy Carter," said Matt.
Billy Beer was actually brewed at four different breweries, including the West End Brewing Company in Utica, during the late 1970s. Each can featured a message and signature from Billy.
"Brewed expressly for and with the personal approval of one of AMERICA's all-time Great Beer Drinker. I had this beer brewed up just for me. I think it's the best I ever tasted. And I've tasted a lot. I think you'll like it, too." -- Billy Carter
Carter died of pancreatic cancer in 1988 and after that, empty cans of the beer were being sold online for thousands of dollars. However, according to Wikipedia, because there were so many million cans produced, the estimated value of the can was less than a dollar.
By the way, if you're looking for outdoor winter fun and snowmobile races, click here for details on this weekend's Winter Fest in Boonville. If you would like information on Matt's and Saranac's award winning beers, click here.
AquaVino Restaurant and Bar Opens in New Hartford. Check Out These Amazing Dishes
One of Utica's most popular restaurants has just moved into the former Outback Steakhouse in New Hartford. The new restaurant has an awesome menu featuring great food and drink. Check out these dishes we enjoyed during the soft opening.
Jimmy Carter through the Years
James Earl Carter, Jr. was born in Plains, Georgia on October 1, 1924.
He won the Nobel Peace Prize in 2022. He served as the 39th President of the United States from 1977 to 1981. Former President Carter was also the Governor of Georgia and a state senator of his home state.
A graduate of the United States Naval Academy, Carter is also known as the first American president who was born in a hospital.
As a very young man he was enterprising, and started his own businesses early, helping to supplement his family's farm for many years.
His Vice President was Walter Mondale. One of President Carter's first duties in office was to issue Proclamation 4483 on January 21, 1977, pardoning all those who evaded the Vietnam era draft. During his Presidency, the Department of Energy and Department of Education were formed.
He has authored dozens of books. Among them are "Our Endangered Values," "Faith," "An Hour Before Daylight," and "A Full Life."
Since 1946 Jimmy Carter has been married to Eleanor Rosalynn Carter (known as Rosalynn Carter). They have four children: Amy Carter, Donnel Carter, Jack Carter, and James Carter.
The Verdict is in, Here's the Real History of Utica Chicken Riggies
It's now Utica's most famous dish, Utica Chicken Riggies. We talked with many restauranteurs who were around at the time when this iconic dish was created. We now have the answer to this question: who created the first "Utica Riggies" recipe.