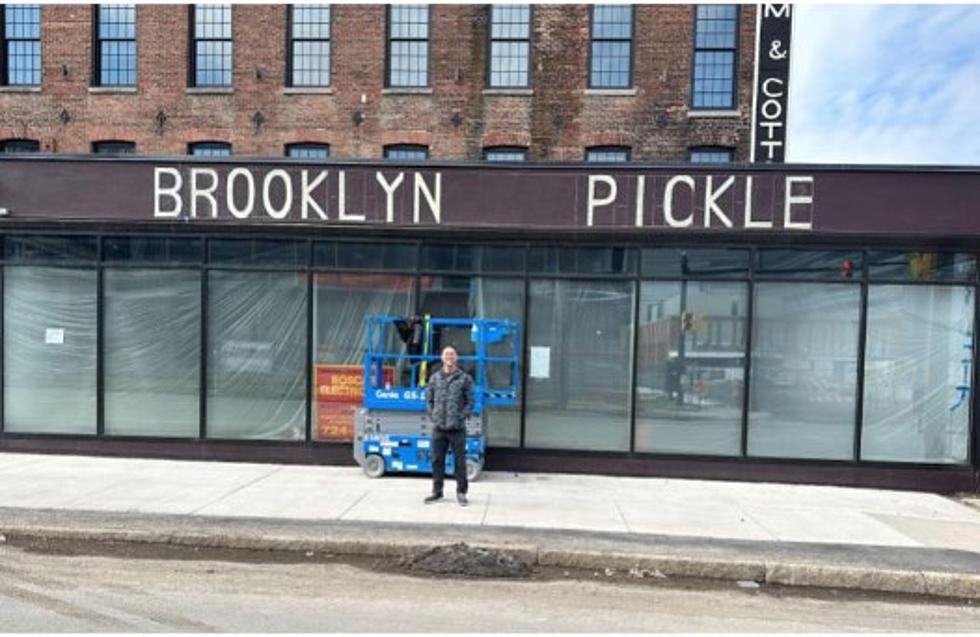 The Line Starts Here: Brooklyn Pickle Utica Grand Opening Date Announced
Owner Craig Kowadla in front of Brooklyn Pickle Utica, 600 State Street. credit: Vic Vallar
The grand opening for the much anticipated Brooklyn Pickle Utica location has been set.
Brooklyn Pickle Utica will be located at 600 State Street in what was formerly the Utica Steam Cotton Building (in photo included below you can see the Wynn Hospital downtown just behind their location).
"Mayor Palmieri was very influential in pitching Utica, and we're thrilled to be a part of Utica's resurgence. It's such a great opportunity for Brooklyn Pickle and for the people of Utica, as we're right across from the hospital, underneath 64 condo units, in the heart of downtown with plenty of parking; over 200 spaces directly in the rear of the building and across the street from that!," said owner and Brooklyn Pickle President Craig Kowadla in a statement announcing the grand opening date.
Brooklyn Pickle is a deli sandwich shop that opened in Syracuse in 1975. They currently operate three shops in and around Salt City - Burnett Ave. in Syracuse, Genesee Street in Syracuse, and Buckley Road in Liverpool. The Utica location becomes Brooklyn Pickle number four, and the business is moving forward with plans to open a fifth location this summer in the state of North Carolina.
The official grand opening and ribbon cutting with all the fixin's is scheduled for 10:30 a.m. on Monday morning April 17, Kowadla announced today. And, he says for those who've never tried it before, :"People will be impressed by our unique offerings, high quality food and speed of service."
With the opening less that three weeks away, Kowadla said Brooklyn Pickle Utica has hired 20 employees.
AquaVino Restaurant and Bar Opens in New Hartford. Check Out These Amazing Dishes
One of Utica's most popular restaurants has just moved into the former Outback Steakhouse in New Hartford. The new restaurant has an awesome menu featuring great food and drink. Check out these dishes we enjoyed during the soft opening.
New Photos of the new Downtown Utica Wynn Hospital (February 2023)
Just eight months before it's scheduled to open, MVHS officials took WIBX's Bill Keeler and Jeff Monaski, along with Photo Journalist Nancy L. Ford through the new Wynn Hospital in Utica. The new downtown hospital is expected to open in November.
World's Largest Dish of Pasta, and a Wedding - Utica, NY, Feb 14, 2004
The Guinness Book of World Records affirmed in 2004, that the World's Largest Dish of Pasta was made in Utica, NY with the Keeler Show. Now with WIBX, Keeler worked with Tony's Pizzeria and other to create a dish of pasta weighing over 7,000 lbs. and the event included an actual wedding. The dish of pasta weighed 7,355 lbs. (3,336 kg) and lasted in the Guinness Book for several years. The dish was assembled and the wedding was held at Sangertown Square in New Hartford, when Keeler was hosting a 6 night a week television show, The Keeler Show, on FOX 33 TV in Utica and FOX 68 in Syracuse.