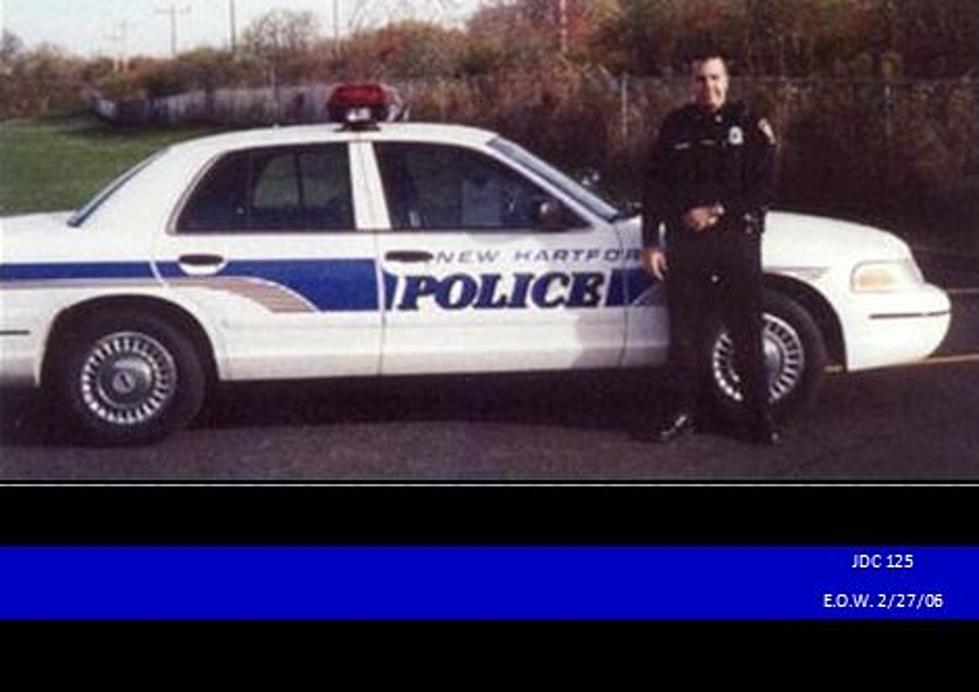 New Hartford Patrolman Joseph Corr Remembered 17 Years Later
Patrol Joseph Corr next to patrol car, via New Hartford Police
Monday marks 17-years since a local police officer was gunned down while chasing suspects involved in a jewelry store robbery on Commercial Drive in New Hartford.
Patrolman Joseph Corr died on February 27, 2006 while chasing after one of the suspects involved in the robbery. Corr and other officers were pursing a vehicle that had fled the scene. The chase included a strip of Route 5 in the New Hartford-area and the vehicle portion of that pursuit would end at the Byrne Dairy on Rt. 5 in Clinton when the suspects, Walter Richardson and Toussaint Davis, crashed into a gas pump at the convenience store - with the collision sparking a fire and adding to the chaos of the scene.
The subsequent foot pursuit saw Davis (then going by a false identity of John Healy) quickly captured by police, but Richardson took off into the woods behind the convenience store, officials said at trial. Richardson fired at the 30-year-old cop who was chasing him. Corr was hit with one of those bullets and died from his injuries soon after.
Evidence brought out at trial showed Richardson then kidnapped a tow truck driver at gunpoint and forced him to drive to Pennsylvania. Just a few days later, Richard, 36, would die in a shootout with police in Chester, PA, after he was tracked to that location.
Davis and two other men - Robert Ward and Marion Pegese - would all receive life sentences for their role in the felony robbery that resulted in Corr's death, and for the involvement in jewelry store stick-up in Freehold, New Jersey.
A memorial mass is being held to honor Officer Joseph Corr tonight at 5:30 at Our Lady Of Lourdes Church in Genesee Street in Utica.
Utica Police Officers working Downtown Utica in the 40s and 50's
Utica Police officers were out patrolling Downtown Utica "back in the day" See if you can guess the locations from the 1940's and 1950s.
Utica Police K-9 Varick
Utica Police K-9 Unit Member Varick