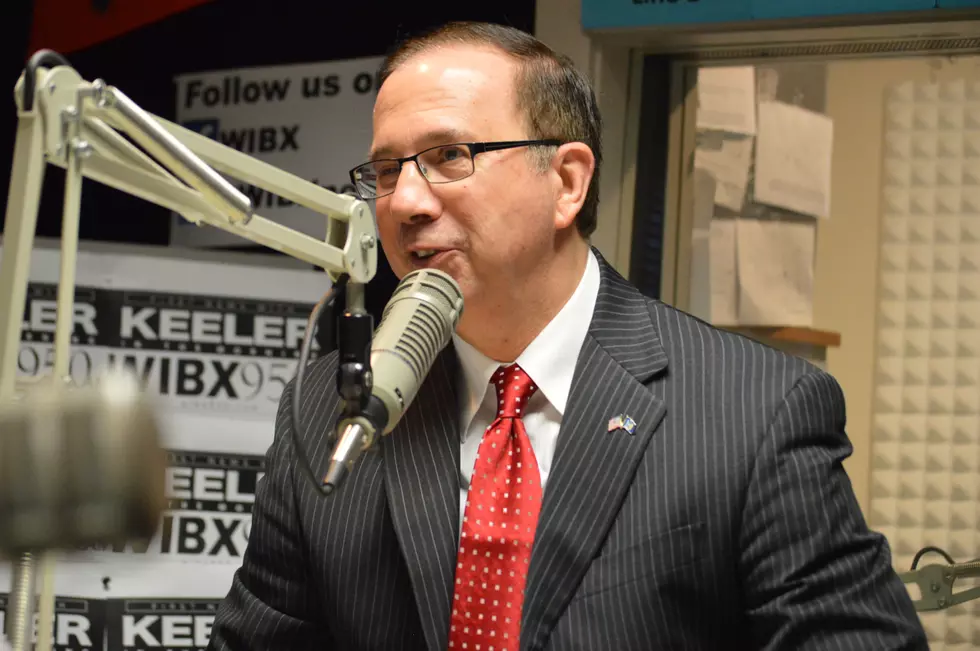 Griffo Proposes Additional Support For Police, Will Ride-Along With Cops To See Crime Firsthand
Senator Joseph Griffo, WIBX
A Central New York Senator is preparing to get a firsthand look at crime and other issues facing local law enforcement.
Senator Joe Griffo is planning ride-alongs will multiple area police agencies, starting with State Police in Herkimer. The Rome Republican is also scheduling ride-alongs with Utica Police, Rome Police, and the Madison County Sheriff's Office.
Additionally, Griffo has written Governor Kathy Hochul pitching a plan to invest $300-million to bolster public safety across the state. The money would be allocated over three-years, at $100-million each year. From there is would breakdown to an 80/20 split, with the larger portion paying the salaries of added police officers and the rest going toward equipment.
"Like so many others, I remain concerned with the increase in crime in New York State. It is imperative that we seek out ways to enhance public safety for New Yorkers," Griffo said in a statement. "It is my belief that this three-year commitment will have a limited financial impact on the state and will ensure that law enforcement agencies have the resources that they need to address public safety concerns." 
New York's Bail Reform legislation and the impact on public safety have been a huge focus for state Republicans since the law was enacted. Crime has been repeatedly named priority for New Yorkers of all political backgrounds, according to numerous surveys.
The calls for adjustment to the law grew so loud last election that Democrat Attorney General Letitia James suggested a re-examination of the reforms during her re-election campaign. And, Governor Hochul acknowledged a 'national crime' and 'room for improvement' in Bail Reform Laws during her recent State of the State Address this month:
First, the size of someone's bank account should not determine whether they sit in jail, or return home, before they have even been convicted of a crime.

That was the goal of bail reform. It was a righteous one, and I stand by it. Second, bail reform is not the primary driver of a national crime wave created by a convergence of factors, including the pandemic. And third, that the bail reform law as written now leaves room for improvement.

As leaders, we cannot ignore that, when we hear so often from New Yorkers that crime is their top concern. And so, to my partners in the legislature, let's start with this shared understanding and have a thoughtful conversation during the budget process about improvements we can make to the law.
You can read the entire transcript from Hochul's 2023 State of the State here.
What Restaurants Are Being Added to New York State Thruway Rest Stops?
These restaurants are being added along rest stops on the New York State Thruway. Are you excited?
From A to Z: Utica Restaurants You Need To Try At Least Once
From A to Z, here's just some of the restaurants here in Utica that you need to try at least once.
Take A Look at The Menu: LODED - Syracuse, NY
Here's a look at the menu of Syracuse's newest hot spot.
Hours: 4 to 8 p.m. on 4/30/21 and 5/1/21. Starting May 4: 11 a.m. to 7 p.m. Tuesday-Saturday. Closed Sundays and Mondays.
10 Summertime Restaurants In The Utica and Rome Area That Deserve Way More Credit
The warmer weather is on the way for the Utica and Rome area of Central New York. That means enjoying amazing summertime foods and drinks. Are you ready? Here are 10 summertime restaurants in Central New York that deserve way more credit:
Take A Look At Turning Stone Casino's New Buffet: 7 Kitchens
The resort casino's culinary team has curated a menu for the restaurant's seven market-style stations that will feature a mix of new food options, while also offering new twists on all the classics. Here's some photos of what you can expect it to look like.