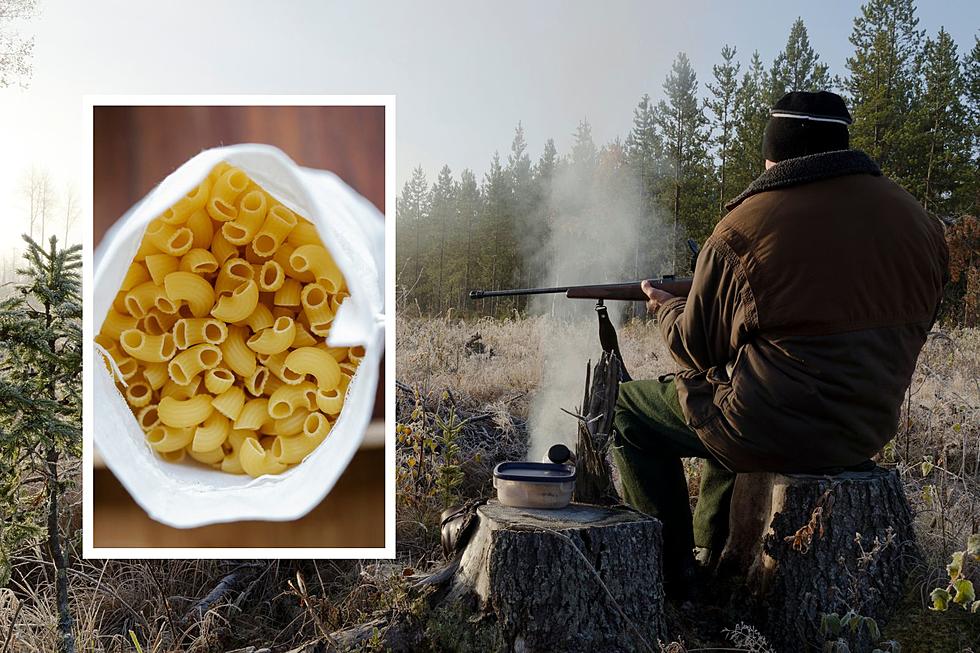 Dumb Hunter Caught Using Noodles to Bait a Bear in Upstate New York
Sarah Chai, LOJ5407
There's dumb hunters out there... and then there's this guy.
NYS Department of Environmental Conservation Officers (ECOs) are always on watch, doing everything they can to protect our wildlife. They know the rules when it comes to hunting, regardless of the animal.
So, it was no surprise what they caught this hunter doing was not only dumb, but illegal.
Nothing But Noodles
ECOs Adam Johnson and Jason Smith were recently notified of someone allegedly baiting bears in the Town of Saugerties. Not only that, but they were also told the man was using noodles to do it.
Confused, but also aware of the laws against baiting, the two ECOs set off to find the hunter in question.
They both walked along the edge of a cornfield where the baiting was reported, until they eventually found the hunter in his post. Just 75 yards in front of the hunter on the farm road, the ECOs also found a pile of noodles.
The hunter's excuse... now that'll make you laugh.
He Was Hungry
When asked where the noodles came from, the man claimed he had brought them to eat for lunch. Sure dude... there's nothing like cold, plain noodles to munch on when hunting. Not to mention eating them off the ground, if he was staying true to his word.
Believe it or not... the officers didn't buy a second of it.
ECO Johnson issued two tickets to the hunter for hunting bear with the aid of pre-established bait and failing to wear a back-tag.
8 Dumb Mistakes That Landed Dumb Hunters in Heap of Trouble
If you're going to break the law while hunting, you may want to avoid these 8 stupid mistakes that landed several hunters in a heap of trouble.
Gallery Credit: Credit - Polly McAdams
LOOK! Abandoned Orange County Chopper HQs in Newburgh-TLC's 'American Chopper'
WARNING: Under no circumstances should you enter this property. By doing so you risk bodily harm and/or prosecution for trespassing on private property.
In 2003, a father-son business reality show hit the Discovery Channel. It was called American Chopper and it followed the custom motorcycle-building business of the Teutul family out of Newburgh, NY. Paul Sr. owned the shop with sons Paul Jr. and Mikey working in the business. There was a slew of cast and characters. The center of the show wasn't just the amazing custom motorcycles built for celebrities and others, it was the volatile relationship between Sr. and Jr. The show ran for 12 seasons before the two could no longer get along. It ended up in lawsuits and the two not talking for ten-plus years. In the past few years, the business moved to Florida. This left the 61,000-square-foot headquarters for sale and abandoned. Take a look at what remains of Orange County Choppers.
Gallery Credit: © 2020 CBRE, Inc., https://www.youtube.com/watch?v=iDpnZClZfkA, chrissy cavotta-Townsquare Media
New York Fall Foliage Map 2023
Timing is everything if you want to do some leaf peeping. This is what you can expect in New York State and the entire Northeast for Fall 2023.
Gallery Credit: Karolyi
See What's Inside This Haunted NY Prison Abandoned a Decade Ago
Gallery Credit: Photo: Jessica Hall
New York State's 10 Drunkest Counties
According to
County Health Rankings and Roadmaps
, these are the 10 New York counties with the highest rates of excessive alcohol consumption among adults. The CDC says exessive drinking includes binge drinking which is "...defined as consuming 4 or more drinks on an occasion for a woman or 5 or more drinks on an occasion for a man.." and heavy drinking which " ...for women...is 8 drinks or more per week/For men, heavy drinking is 15 drinks or more per week."
Gallery Credit: Matty Jeff