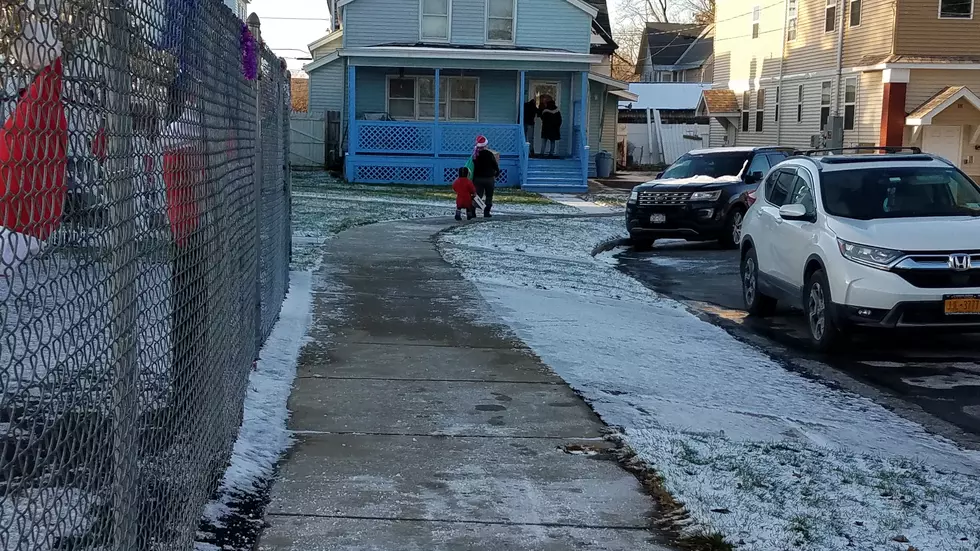 Here's What Your Donation to the Food Bank of Central New York Provides
tsm
The friend had heard Polly and I talking about our annual partnership with the Food Bank to collect donations ensuring everyone had a nutritious and warm meal for the holidays. He has been volunteering at their events for the past 6 months, and said you have to see it to believe it.
It is very humbling to see & assist the hundreds of families that need food assistance on a daily / weekly basis. Their "volunteers" pack and hand out all of the food packages. I am guessing that they will expect 700 families on Monday and 300 on Tuesday.
I visited on a day it was cold enough my phone didn't even want to take pictures. None the less, volunteers scrambled through the cold to set up the food distribution event in an orderly fashion so families could walk through collecting prepackaged bundles of food while still following COVID protocols and guidelines.
Families, many with small children, bundled up and walked to the neighborhood distribution point. And for those unable to brave the cold elements, volunteers packed up the food and delivered it to their homes.
It was heart-warming to see donations do make an immediate difference for families in our community fighting hunger in these trying times. It is so easy to help, just $1 can provide three nutritious meals for one of these families.
The Johnson Park Food Drive is just one of hundreds of organizations the Food Bank of Central New York helps. Even the smallest of donations does make a difference. Here's more information and where you can make a safe and secure donation.
Here's A Breakdown Of What Donations Can Purchase
You can either make a donation of any denomination, or buy specific items like this:
24 boxes of Mac n Cheese- $8.99
20 boxes of elbow pasta- $9.15
12 boxes of cereal- $21.90
24 pound bag of brown rice- $9.08
Bulk Canned Goods
24 cans of vegetables- $10.85
24 cans of soup- $10.85
24 cans of mixed fruit- $16.95
12 jars of jelly- $9.55
Bulk Produce
20 pound box of broccoli- $19.50
40 pound box of apples- $23.00
50 pound bag of potatoes- $13.00
30 pound box of carrots- $27.00
Bulk Protein Goods
12 jars of peanut butter- $13.87
28 cans of tuna fish- $26.50
12 2.5 pound packages of chicken- $50.70
30 dozen eggs- $29.63
READ MORE: Here are 10 ways to help others who are struggling right now