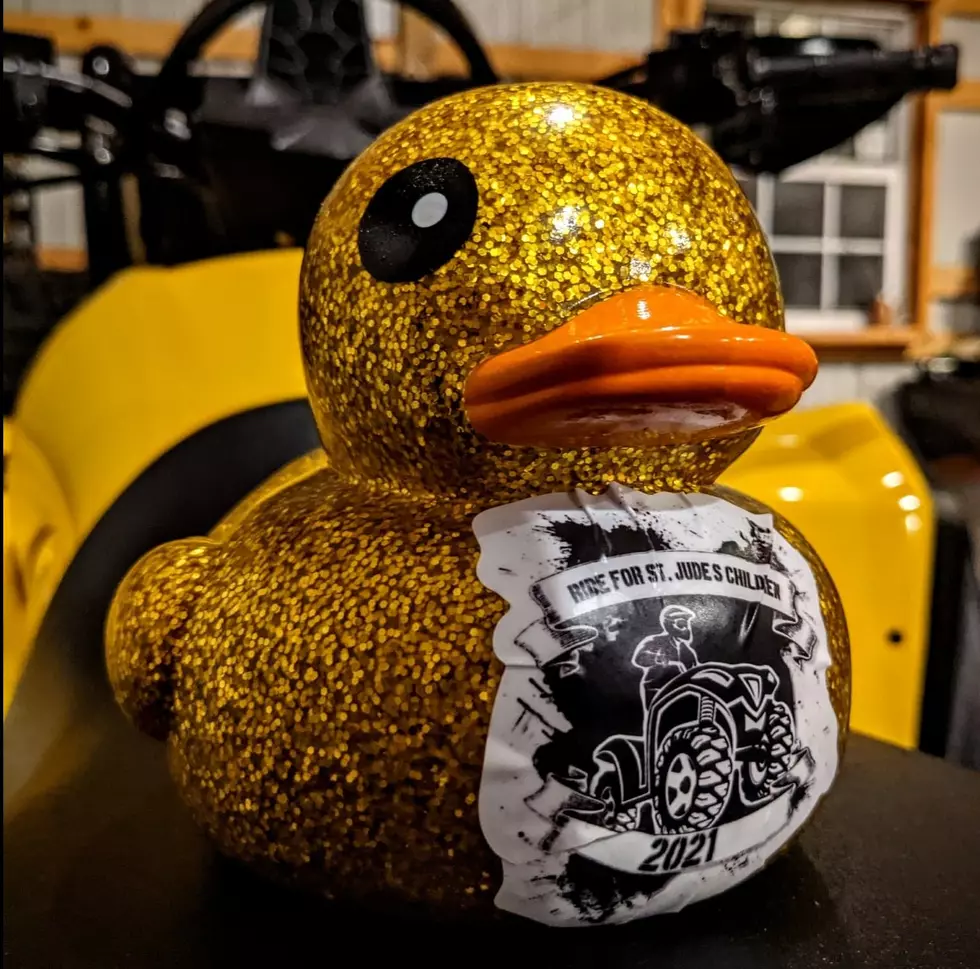 Find This Duck and Win Prizes While Trail Riding, all to Help St Jude
Cheyenne Fraser
Talk about a win-win situation, go muddin' and help St Jude kids at the same time. The St Jude's Ride 2021 is the brain child of Marcus Storms and Cheyenne Fraser, featuring trail rides in Lewis County near the Timberview Resort this Saturday, June 5.
Marcus and Cheyenne both have a love for riding on and off the trails. Marcus adds, after having his first child and seeing the mission of St Jude Children's Research Hospital, he asked himself, "what would I do if my child ever had a life threatening disease?" He decided to use his passion to help raise money for the cause.
Cheyenne became involved after the first year when Marcus asked her to help by creating graphics and a Facebook page for the ride. She says after losing her grandfather to cancer, she couldn't imagine a child going through similar things and got more involved in the event.
This is the third year the duo have hosted their "free-range" ride and Marcus says they have seen a wide variety of vehicles come play in the dirt;  ATV's, UTV's, Side by Sides, Dirt Bikes, and even an occasional Garden Tractor. Whatever you ride, the cost is only $20 and kids ride free. All money goes to St Jude, Marcus and Cheyenne cover all costs.
Adding a little more fun to the ride, rubber ducks have been hidden along the trails this year.  Finding the hidden creatures is one of the many ways to win prizes. The ride begins at 10 am with check in at Timberview Resort on 5265 Carpenter Road in Turin from 9:30 until 11.
Everyone returns to Timberview at 6 to claim duck prizes and draw winners from raffles. Here's the event schedule:
* 9:30-11:00am
Sign in and get raffle tickets, stickers, koozies and paracord keychains.
* 11:00am
Last chance to buy 50/50 raffle tickets.
* 10:00-6:00pm
Free range ride. Find rubber ducks and win prizes with one grand prize. (limit 2 ducks per person)
* 6:00pm
Meet back at Timberview to claim your duck prizes and announce the 50/50 raffle winner. Any duck prizes not found will be drawn with the remaining 50/50 tickets.
Get more information on the St Jude's Ride 2021 on their Facebook page. Don't ride, but still want to help Marcus and Cheyenne raise money for St Jude? You can donate prizes for the event or drop off a donation.
Susquehanna Eaglets Learn to Feed Themselves
Momma Eagle teaching the babies how to feed themselves.
21 Adventures You Need to Add to Your Summer Bucket List
LOOK: Route 66's quirkiest and most wonderful attractions state by state
Stacker
compiled a list of 50 attractions--state by state--to see along the drive, drawing on information from historic sites, news stories,
Roadside America
, and the National Park Service. Keep reading to discover where travelers can get their kicks on Route 66.