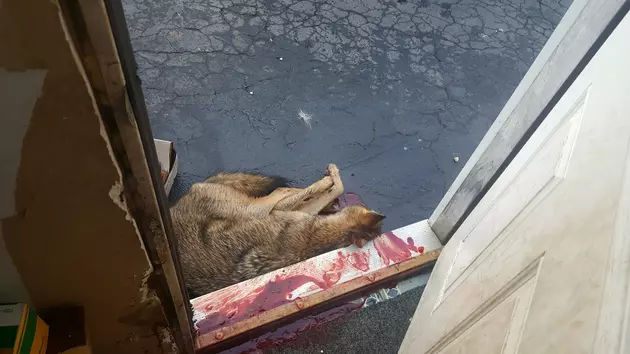 Coyote Attacks Wayne County Family
Sal Bellone
A coyote attacked a New York family and their dogs. Sal Bellone says the animal "tried running in my house. It attacked my dogs and bit my mom."
It happened Sunday October 2nd in Wolcott, New York in Wayne County, northwest of Syracuse. Bellone posted pictures of the coyote on Facebook that tested positive for rabies. His dad was forced to kill the coyote when it got inside the house. "My mother has been to the hospital and treated for rabies. My dogs went to the vet and were given booster shots," writes Bellone.
Since the coyote was rabid Bellone says "we used 3 gallons of bleach to clean the floor and driveway and threw out anything near where we shot it."
The DEC warned of the growing coyote population in May. There are an estimated 30,000 coyotes living in and around Upstate New York.
*Some photos are graphic
---
MORE: There's a Moose on the Loose in CNY