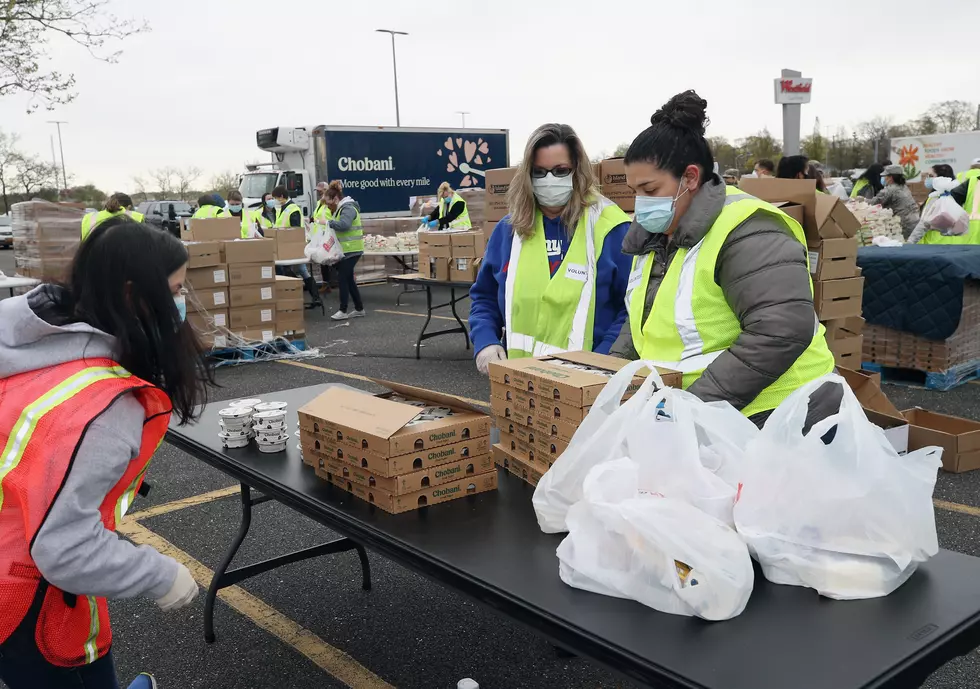 Chobani Joins 'Nourish New York' Program to Feed Families in Need
Getty Images / Bruce Bennett / Staff
Governor Cuomo announced the 'Nourish New York' program last month in an effort to support New York farmers and families in need during the coronavirus pandemic. New York State provided $25 million to food banks using the state's public health emergency fund. With that money, food banks across New York have been able to purchase much-needed products to help the influx of New Yorkers currently relying on food banks.
The South Edmeston-based yogurt company Chobani has also joined the cause, and donated 133,000 cases of Greek yogurt to Nourish New York's first event last week on Long Island. According to WSYR, the Island Harvest Food Bank held a drive-thru distribution event last Friday that provided food, including Chobani yogurt cups, to 3,000 families. But Chobani President Peter McGuinness told WSYR he's aware that Chobani alone cannot fix the struggles New York farmers and families are dealing with.
"We're a yogurt company so we're under no illusions that we can solve this huge problem but I think if everyone just helps do their part we'd be in a better place," McGuinness told WSYR.
McGuinness said many of the people who work in Chobani's South Edmeston factory are sons and daughters of dairy farmers, so the company's commitment to those who have recently been forced to dump milk rings very important.
"I think it's more about community now than ever, so the second piece of this that is really amazing is that it's going to help New Yorkers out, and New Yorkers that are in need right now," McGuinness told WSYR.
A number of other New York companies pitched in to support the Nourish New York program. According to WSYR, Galbani Cheese in Buffalo, Hudson River Fruit Distributors in Milton, Lucki 7 Livestock Farm in Rodman, Queensboro Farms in Canastota, Satur Farms in Cutchogue, Splendid Blend in Great Neck and Torrey Farms in Elba also contributed to the kickoff event on Long Island.
Enter your number to get our free mobile app
The Food Bank of Central New York also held a drive-thru distribution event earlier this week in partnership with the Nourish New York program. Karen Belcher, the interim executive director of the Food Bank of Central New York, told Spectrum News they gave away 59,000 pounds of food to 1,000 people Tuesday.
""It's been waves from little kids. Smiles. Thank yous. It's humbling," Belcher told Spectrum. "Emotional too, thinking about the impact you're having."
Richard Ball, the New York state commissioner of agriculture and markets, told Spectrum the program is beneficial for everyone, from food banks to local farmers to families in need.
"People need it, farmers need the customers, so this gives me hope," Ball told Spectrum. "I think that's connecting dots at its best at a time when we need it the most."
READ MORE: See how some companies are changing their businesses to combat COVID-19