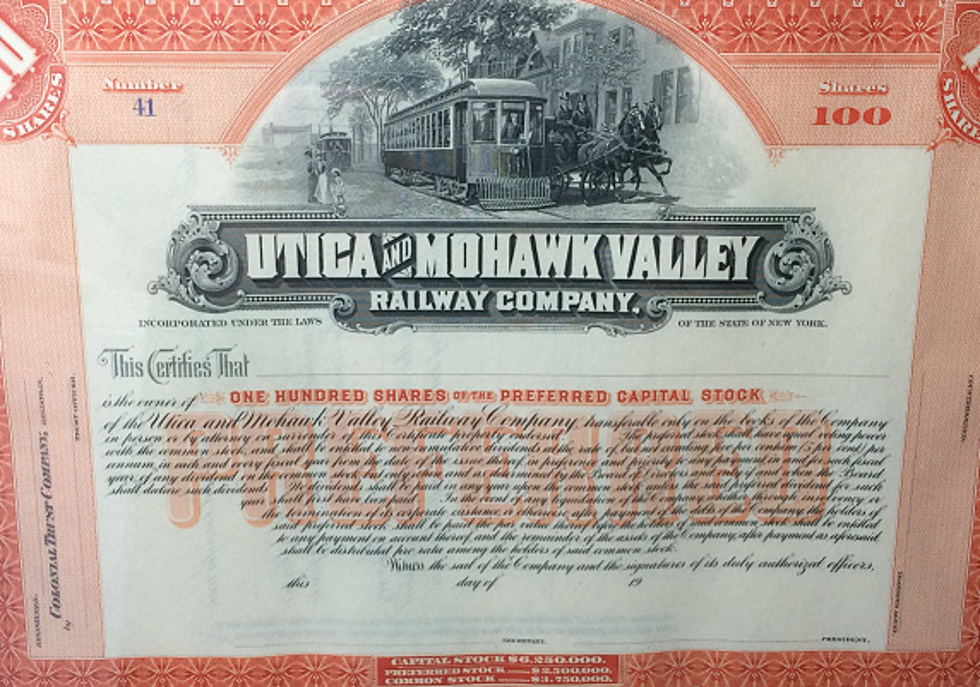 Buy Stock In The Utica and Mohawk Valley Railway
48teddy via eBay
Looking to own a piece of Central New York history? Currently up for sale on eBay are stock certificates on these local railways.
You can buy two framed Electric railway trolley stock certificates for the Utica & Mohawk Valley Railway (1901), and the Herkimer,Mohawk,Ilion, & Frankfort Electric Railway (1895) for $95 on eBay.
At its peak, the Utica Lines consisted of 17 transit routes operated with more than 100 cars. The line ceased operation in 1933, except for the section between Utica and Whitesboro that survived until 1938. The last city streetcars operated on May 31, 1941. The remaining transit routes were operated with buses and the franchise would be reorganized as the Utica Transit Corporation in 1948."
In 1895 "The Herkimer-Mohawk-Ilion-Frankfort Electric Railway Company" with it's first electric car in Herkimer county began running. The next year, 1896, there were 877,128 passengers using ten motor cars. The trolley service, both from Utica to Little Falls, and from Frankfort to Herkimer, was replaced in 1933 by New York State Railway bus.
---
BONUS VIDEO