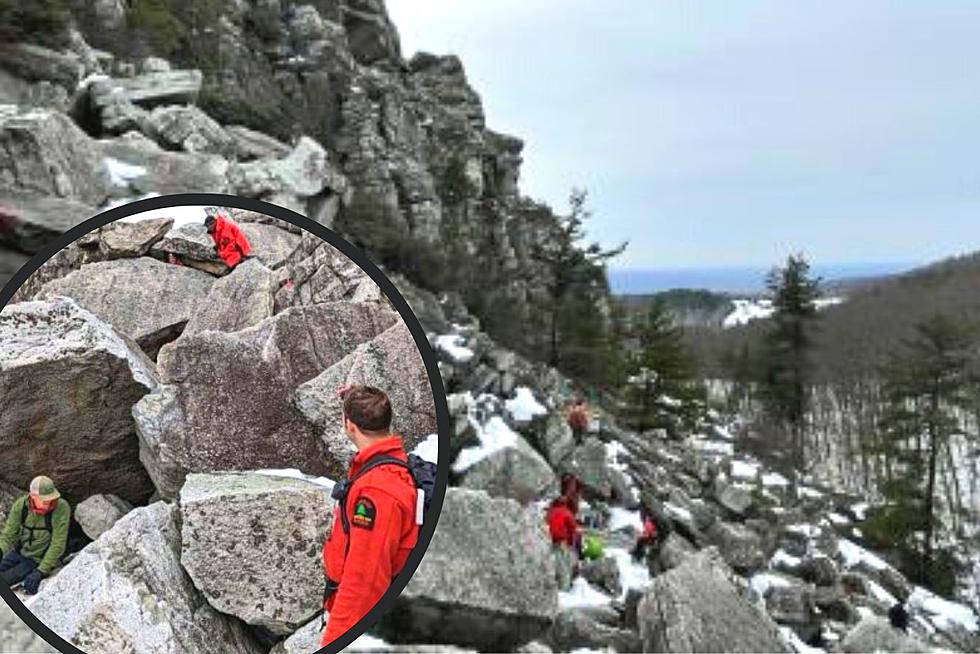 Body of Missing New York Hiker Found After Difficult 3 Day Search
Credit - NYS DEC
The body of a missing hiker in New York has been found after a three-day search.
A hiker left his home in Brooklyn for a solo trek in the Bonticou Crag area on March 11. His daughter was the last person to hear from him before he took off. He didn't show up for work the following Monday or Tuesday.
New York State Police discovered the vehicle of theh missing 45-year-old hiker in the Spring Farm parking lot of Mohonk Preserve on March 14.
Over the next three days, 10 Forest Rangers joined the State Police, Mohonk Preserve Patrol Rangers, Sam's Point Search and Rescue, and Marbletown Rescue to look for the missing hiker.
Steep, rocky, technical terrain, and the recent snowstorm made the seach more difficult. But on the morning of March 17, searchers found the hiker's backpack and cell phone at the base of a 50-foot cliff. A few hours later the body was found about 400 feet away from a presumed fall.
Hiking Tips
The NYS DEC provides hiking tips to keep you safe on the trails from what to wear to what to bring.
Dress in moisture-wicking synthetic fabrics that keep your skin dry and help regulate your body temperature in both cold and warm weather - avoid cotton that holds moisture.
Layer your clothing, even for summer hikes.
Be sure to wear waterproof, sturdy, and comfortable shoes or boots.
Wear or take a watch or other time-keeping device.
Consider using trekking poles to help reduce leg fatigue and joint pain.
Snowshoes and traction devices should be used in the winter.
Hiking Essentials
In addition to wearing the proper clothing and footwear, the DEC recommends taking these essentials with you at all times.
Map
Compass
GPS system
Extra batteries
Waterproof/windproof jacket
Hat
Gloves
Thermal undergarments (pack extra)
Wool socks (pack extra)
Goggles - Winter
Face mask - Winter
Headlamp
Flashlight
Lanterns
Whistle
Signal mirror
Duct tape
Pocket knife/multi-tool, etc.
Bright colored cloth
Matches in a waterproof container
Lighter
High-protein and high-calorie food
At least 2 liters of water per person
Tent
Space Blanket
Tarp
Before hitting the trails be sure to plan out your trip - where you're going and when you'll return. Be sure to check out trail and weather conditions first and leave your trip plans with family or friends.
If you do happen to get lost or injured, stop, stay calm, and call 911 or the DEC Dispatch at 518-408-5850 or 518-891-0235 in the Adirondacks.
https://www.dec.ny.gov/press/127336.html
"Take a Hike!" Nine Upstate New York Hikes That Everybody Can Enjoy!
Taking a hike doesn't mean you have to punish yourself with a difficult hand over hand climb to some remote mountaintop. At least it doesn't mean that for this writer! Here are 9 hikes you can take which, for the most part, are more like an enjoyable "walk in the woods." And remember, the view from the top when you finally get there is always worth the trip!