Kenny Baker, Iconic 'Star Wars' Actor, Passes Away at 81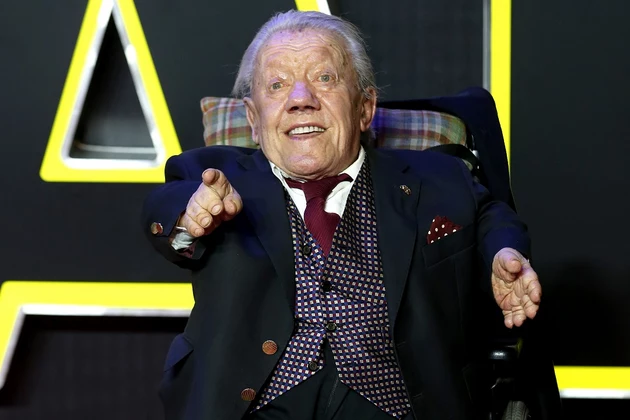 Kenny Baker, the actor who portrayed the beloved droid R2-D2 in the Star Wars series, passed away on Saturday (August 13). He was 81.
According to his niece and nephew, Abigail Shield and Andrew Myerscough, the actor passed away in his sleep and was found early Saturday morning. Shield explained that her uncle had been ill with a lung condition for years, and that because he was a "little person," it was "pretty amazing he lived this long" as he was not expected to "live past his teenage years," CNN reports.
Myerscough, who cared for Baker on a daily basis, added that his uncle's wish was to go peacefully and that prior to falling asleep he was watching the Olympics on TV.
"I couldn't ask for more," he told CNN.
Baker, who was 3 feet, 8 inches tall, paved the way for other persons of short stature in the entertainment industry, breaking many stigmas surrounding the abilities and talents of LP in Hollywood and inspiring actors like Warwick Davis and Verne Troyer.
Born on August 24, 1934 in Birmingham, England, the actor lived a prolific, vaudevillian life. In the 1950s, he joined a theatrical troupe and then a circus, where he learned to ice skate. Later, he started a comedy act with fellow performer and future Star Wars co-star Jack Purvis.
Baker made his cinematic debut in Circus of Horrors, a British horror B-movie released in 1960, and in 1976 he was hired by George Lucas to perform as a small, spunky droid called R2-D2 in what would eventually become the largest, most culturally iconic sci-fi franchise in history.
He appeared as the beloved robot in six Star Wars movies, including Lucas's prequels, as well as provided consultation for the character in 2015's The Force Awakens.
Throughout his career, Baker also starred in films like Labyrinth, Willow and The King and I.
Following the news of his passing, across social media Hollywood stars, filmmakers and members of Baker's own Star Wars family shared their condolences, fond memories and emotional farewells.
Mark Hamill, the actor behind Luke Skywalker, wrote on Twitter, "Goodbye Kenny Baker. A lifelong loyal friend — I loved his optimism and determinism. He WAS the droid I was looking for!"
Dave Prowse, who played Darth Vader (but not his voice, which was provided by James Earl Jones), shared, "Very sorry to hear about Kenny. He was a great personal friend that I thoroughly enjoyed working with."
Meanwhile, Anthony Daniels, who famously portrayed fellow droid C-3PO alongside Baker's R2-D2, said via Twitter, "Sad to hear of Kenny's passing. [One] of the truly original cast, so famed for his iconic role as R2. He'll always be remembered by so many fans."
See more reactions to Baker's passing, below:
Goodbye #KennyBaker A lifelong loyal friend-I loved his optimism & determination He WAS the droid I was looking for! pic.twitter.com/rd94OEYaHi

— Mark Hamill (@HamillHimself) August 13, 2016
Very sorry to hear about Kenny. He was a great personal friend that I thoroughly enjoyed working with. #KennyBaker pic.twitter.com/z6mwhrZOi0

— DARTH VADER (@isDARTHVADER) August 13, 2016
Sad to hear of Kenny's passing.1 of the truly original cast, so famed for his iconic role as R2. He'll always be remembered by so many fans.

— Anthony Daniels (@ADaniels3PO) August 14, 2016
RIP Kenny Baker. What an icon and legend. pic.twitter.com/9DG9FoY3y8

— Verne Troyer (@VerneTroyer) August 14, 2016
When I was a kid nothing inspired me more than Star Wars and Time Bandits. Kenny Baker was a big part of both. Alas. https://t.co/NNh8vjU1NN

— Gary Whitta (@garywhitta) August 13, 2016
Today we lost a dear friend. We'll miss you, Kenny Baker. https://t.co/Z020FtLQpP pic.twitter.com/xDHvUurUgv

— Star Wars (@starwars) August 13, 2016
So sorry to hear about this. It was lovely working with Kenny. Kenny Baker, Star Wars R2-D2 actor, dies aged 81 https://t.co/9HW6f3MWZl

— Ewan McGregor (@mcgregor_ewan) August 13, 2016
A great one- And, like Napoleon, his stature was measured not from head-to-ground but head-to-sky. A brilliant man. https://t.co/wQMsQ5Sjoz

— Guillermo del Toro (@RealGDT) August 13, 2016
#KennyBaker is gone. #RIPR2D2 You will live on in this galaxy for years to come!

— Josh Gad (@joshgad) August 13, 2016
Go well Kenny Baker, thankyou for the endless joy ❤️ #StarWars https://t.co/uD3DcEV9Fa

— KT Tunstall (@KTTunstall) August 13, 2016
— Pegg News (@simonpegg) August 13, 2016
Sorry to hear of the passing of Kenny Baker.R2D2 to many,one half of "The Mini Tones" to me. pic.twitter.com/BRilcVDntW

— William Regal (@RealKingRegal) August 13, 2016
You brought life to one of my favourite characters, thank you Kenny Baker. Rest in peace. pic.twitter.com/9L53J5rN17

— Rahul Kohli (@RahulKohli13) August 13, 2016
Rest in Peace @starwars legend #KennyBaker – whose name I learned at age 7 because he brought #R2D2 to life. Feels like losing family…

— KevinSmith (@ThatKevinSmith) August 13, 2016
So sad to hear one of my dearest friends passed away. Rest in peace Kenny Baker. Love you. Will miss you! pic.twitter.com/FosdwNysGk

— Daniel Logan (@Daniel_Logan) August 13, 2016
Stars We've Lost in 2016:

Source:
Kenny Baker, Iconic 'Star Wars' Actor, Passes Away at 81